The ASMFC is taking comments from the public on eel management, but Friday is the deadline. Following are suggested comments from Stripers Forever.  While these positions are probably the best to be hoped for, I can't accept any commercial fisheries for glass eels such as is carried out in Maine to allow a few people to make fortunes while decimating a fishery. It would be different if they were just destroying their own fishery, but scientists believe eels spawned in the Sargasso Sea are randomly distributed by currents rather than being imprinted to return to the river of the parents. Comments should be e-mailed to comments@asmfc.org — with the subject line American Eel
ASMFC ACCEPTING COMMENTS ON EEL MANAGEMENT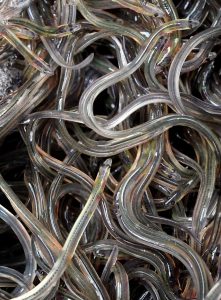 Here is your chance to speak up for the health of our marine ecosystem and favorite striped bass food! We need to make sure that the harvest levels remain the same and NOT increased so that a few may profit! The Atlantic States Marine Fisheries Commission (ASMFC) is seeking public comment on its plans to make changes to its American Eel Fishery Management Plan (FMP) for commercial yellow and glass/elver eel allocation and management.
This is an important opportunity for the public to ask for increased eel conservation.
Please share with a friend. We only have until June 15, 2018 to make our voice heard.
---
According to the U.S Fish and Wildlife Service, in all its life stages, the American eel serves as an important prey species for many fish, aquatic mammals, and fish-eating birds. Climate change may affect future ocean conditions, such as water temperature, current patterns and food sources that may have implications for the eels breeding success. However, high levels of uncertainty in the precise mechanism and timing of such changes make it difficult for scientists to accurately predict how, or to what extent, any changes will affect eel migration, aggregation for reproduction, and ultimately abundance.
According to the ASMFC, The goal of the current American Eel FMP is to conserve and protect the American eel resource to ensure its continued role in its ecosystems. This FMP requires that states and jurisdictions maintain existing or more conservative American eel commercial fishery regulations for all life stages, including minimum size limits. Each state is responsible for implementing management measures within its jurisdiction to ensure the sustainability of its American eel population.
However, the 2012 benchmark stock assessment results
indicated that the American eel stock had declined, that there were significant downward trends in multiple surveys across the coast, and that the stock was depleted. And, the 2017 assessment update repeated the 2012 finding that the American eel population is depleted.
In addition to the depleted stock status, the total coast wide yellow eel landings from 2011-2016 exceeded the coast wide cap in 5 out of 6 years. And, there are significant uncertainties in the commercial landings data because not all states comply with the required data reporting, and there are potential biases present in the commercial yellow eel data set because even with mandatory reporting, requirements do not always extend outside marine districts where yellow eel are harvested from non-marine waters, and misreporting between conger eel, hagfish, slime eel, and American eel has been known to occur.
Regarding the current elver harvest, given an estimated 2,000 elvers per pound, the current Maine quota of 9,688 pounds combined with the 15 states aquaculture quota of 200 pounds each would yield a total coast wide quota of 12,688 pounds, or a potential to remove 25,376,000 eels from the water, in addition to the total yellow eels removed under the current coast wide quota of 907,671 pounds.
To achieve the conservation goals of the ASMFC's American Eel Fishery Management Plan through Addendum 5, we feel the following Addendum V options should be implemented:
3.1 Proposed Options for Maine Glass Eel Quota: Option 1: Status Quo Quota for Maine of 9,688 pounds of glass eel.
3.2 Proposed Options of Glass Eel Aquaculture Plans: Option 1: Status Quo.
3.3 Proposed Options for yellow eel Coast wide Cap, Management Trigger, and state-by-state allocations:
Issue 1: Coast wide Cap: Option 4: Coast wide cap set at 836,969 pounds; a 12% decrease from the mean or average of 1998-2016 landings.
Issue 2: Management Trigger: Option 1: Status Quo. There are also numerous allocation options in Addendum V, but the main options to maintain or increase protections for American eel are the ones noted above.
The small craft warnings for west winds kept most boats at the dock this morning. The Fishermen from Atlantic Highlands sailed into good fluke fishing at first with most being keepers. Yet, when the wind increased to 25 mph the anglers had to switch to 10-ounce sinkers and could hardly hold in even shallow waters.
Surf waters turned cold from the recent SW winds, and Jim Louro of Spring Lake felt fortunate to catch an 18-inch striper plus a skate on sand fleas. The NW wind should calm the surf overnight and start a trend upward in water temperature.
Capt. Dave De Gennaro reports he ran out to the canyons on Sunday with his Hi-Flier from Barnegat — and found blue waters with lots of whales and dolphins. There were also trolling hook-ups, but the action was from skipjacks. Only one small bluefin tuna was caught, but it was undersized. De Gennaro said the weather looks good for another canyon attempt on Saturday. He's sailing open then, and is doing the same for inshore fishing Friday from noon to 5 p.m. School stripers have been hitting soft plastics cast into Barnegat Inlet — occasionally including a 21-pounder such as this one held by Capt. Nick De Gennaro. The Father's Day open trip will be from 7 a.m. to noon.