New Jersey Banquet & Auction
Friday, April 20, 2018 at 7 pm
Doolan's Shore Club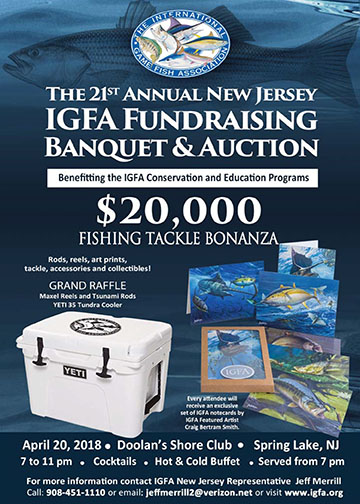 700 State Hwy 71
Spring Lake, New Jersey, USA
The International Game Fish Association's New Jersey Representatives are pleased to announce that their 21st Annual Fundraising Banquet & Auction will be held on Friday, April 20, 2018 at 7 p.m. at Doolan's Shore Club located on Route 71 in Spring Lake Heights, New Jersey.  Hosted by New Jersey representatives Rich Keller, David Matagiese, Jeff Merrill and Gene Nigro, proceeds from the evening will benefit IGFA's Conservation and Education Programs. Over the past 20 years, this event has raised well over $282,000, making it one of IGFA's most successful annual fund raising events.
A cocktail hour precedes a deluxe hot and cold buffet dinner followed by the popular Fishing Tackle Bonanza Auction, where thousands of dollars worth of fishing tackle including rods, reels, line and lures donated by major tackle manufacturers and local tackle shops, plus jewelry, marine artwork and other fishing related items and accessories will be won.  Numerous fishing trips have also been donated by charter boat captains.  The popular Grand Raffle is again well-stocked and will include two Maxel reels with matching rods, as well as an IGFA exclusive YETI cooler.  A silent auction will also be held and will include fishing trips and several high-value items.  Every attendee will receive a beautiful set of notecards by the IGFA Artist of the Year, Craig Smith. Act now- reservations are limited to the first 225 people!
Tickets:
Tickets are $75 per person. To reserve your tickets, please contact IGFA Representative Jeff Merrill at 908-451-1110 or jeffmerrill2@verizon.net. Checks may be made out to "IGFA" and sent to: IGFA Banquet, c/o Jeff Merrill, 918 Houston St., South Plainfield, NJ 07080.
Needless to say, the weather has shut down fishing since a beautiful Saturday, but the Golden Eagle from Belmar plans to get out for stripers on Wednesday. They caught some shorts with clams on Friday, but only watched trollers boat some stripers on Saturday as bait and lures didn't work for them.
The Jamaica from Brielle makes their first 1 1/2-day tilefish trip at 10 p.m. Sunday with a return at about 4 p.m. Tuesday. The $360 trip is limited to 28. A rental rig for the deep waters fishing costs  $40. Reservations are required. Call 732 528-5014.
Tilefish